Aloo Tikki Chaat
2018-06-11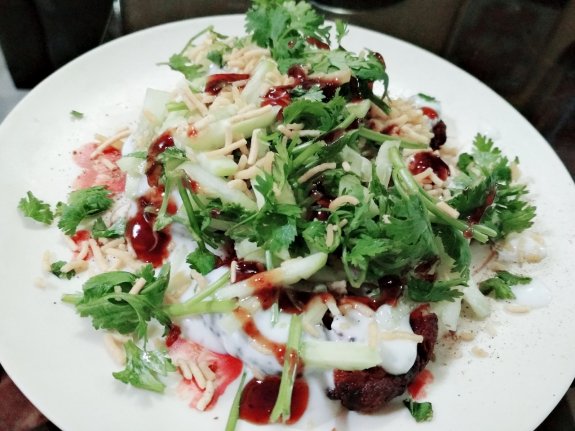 We all are crazy about the Delhi style crispy Aloo Tikki Chaat recipe. Aloo Tikki Chaat is one of the famous and favourite chaat recipes of Delhi. Fat and crispy Aloo Tikkies which you can also say as Potato Patties with hot yellow thick curry and curd  and seasoned with some sweet and sour tamarind chutney, cumin powder, Chaat Masala powder and flavoured with sev and garnished with chopped onions, cucumber as well as chopped coriander leaves.
Ingredients
For Aloo Tikki:
4-5 Big potatoes boiled and mashed
1 tsp green chillies chopped
½ tsp Roasted cumin powder
½ tsp Garam Masala powder
Salt as per taste
1 tsp red chilli powder
Oil for shallow frying
For Tikki Chaat:
1 Cup whisked curd
4-5 Tbsp Tamarind Chutney
1 Cup Ghugni with Dried Yellow Thick Curry
1 big onion chopped
2-3 green chillies chopped
1 cucumber chopped
½ Cup Fresh coriander chopped
2 Tbsp Roasted cumin powder
1 tsp Red chilli powder (optional)
1 tsp Chaat Masala powder
½ Cup Sev (Mainly used Haldiram's Bhujiya)
Method
Step 1
For Making Aloo Tikki: 1. Mash the boiled potatoes and add cumin powder, salt, Garam Masala powder, red chilli powder and green chillies chopped. 2. Now heat oil in a non stick pan and grease it with 1 tsp of oil. 3. Make some flat tikkis with the mashed potato mixture and fry them on the oil from both sides till dark brown in colour. If required, add oil from sides while frying. 4. Remove from oil and transfer it in a kitchen towel to absorb excess oil and keep it side.
Step 2
For Making Chaat: 1. Now, take a plate and add 2 Tbsp yellow curry and spread it evenly in the plate. 2. Now, place 2 to 3 aloo tikkis on it and sprinkle curd, tamarind chutney on top of Aloo tikkis as per your personal choice. 3. After that spread chopped onions, cucumber chopped, green chillies, red chilli powder, salt and coriander leaves chopped. 4. Now, sprinkle some cumin powder, Chaat Masala powder and lots of sev on top of it. 5. Serve it immediately to get the crunch as well as soft feel of Aloo Tikki Chaat.