Mango Cheesecake Recipe
2016-05-23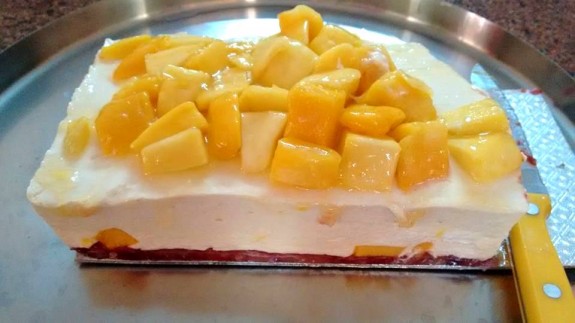 Mango Cheese Cake is smooth, silky and softy cheese cake made with hung curd, cream and the rich flavour of mango.  Like other cakes recipe, mango cheese cake is not so tough to make yet full of flavour and taste. Try to make this delicious recipe at home.
Sorry, I can't resist myself to taste it as I love this a lot. So, I cut a piece and taste it first and then I click a picture. Believe me, it's so yummy.
Ingredients
For the Base
20 digestive or arrowroot or digestive biscuits
¼ cup butter
1 Tbsp sugar
Raspberry pulp (optional)
For Filling
1 cup mango pulp
1 cup sugar
4 egg yolks
3 Tbsp gelatin
Pinch of salt
2 cups cream
2 cups hung curd/mascarpone cheese
Mango slices for decoration
A 10" spring form or loose based cake tin with butter paper
Method
Step 1
1. Crush and powder the biscuits in a food processor. 2. Heat a pan and melt butter in it. Add biscuits and mix well. Switch off the heat and add sugar. 3. Now, line the base of the tin evenly with biscuits mixture and pat to flatten and make it firm with rounded spoon or bowl. Leave it cool. You can add raspberry pulp on top of the biscuit mixture and again make the layer flat. However, this is optional. 4. On the other side, sprinkle the gelatin in ½ cup water and let it soak. 5. Place a small container that can easily be placed in a big container containing water. Now add mango pulp, egg yolks, sugar and salt on the small container and mix well. Cook over low heat until everything well mixed and slightly thicken. The mixture is called custard. 6. Now, once the custard is warm, add soaked gelatin into it and stir continuously till it reaches in a coating consistency. Remove from heat and leave it to cool until the custard is partially set. 7. Take a bowl and whip the cream till it is thick. Fold in the curd or mascarpone cheese in the custard and then add the cream. Mix everything well. 8. Transfer the mixture in the biscuit mixture leveled cake tin and level it till smooth. Leave it to the refrigerator for 6-8 hours or till it set properly. 9. Loosen the edges of the cake tin spring by passing a knife between cake and the side of the pan. 10. Transfer the cake in a serving plate and decorate it with mango slices on top. Serve it chilled.