Murg Noor Mahal Biryani
2015-11-25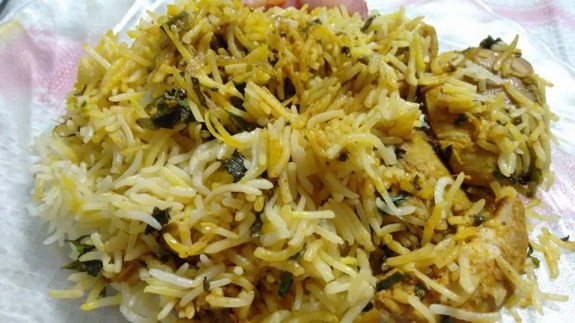 Biryani and history comes hand by hand. From Hyderabad to Lucknow, from Kolkata to Mumbai, Biryani has various Avatars. But we would be wrong to tie biryani inside borders. We will just cross our border and hop on to Noor Mahal Palace in Bahawalpur, now in Punjab, Pakistan.
Noor Mahal was the princely estate of the royal family of Bahawalpur during the British Era, built by Sadiq Muhammad Khan. Like the pomp and grandeur of each and every thing in this palace, the royal kitchen was also of repute due to the royal cooks, who created the gem called "Noor Mahal Biryani."
Ingredients
For Rice:
2 ½ cups of basmati rice – washed and soaked
4 green cardamoms
1 bay leaf
4 cloves
2 tsp lemon juice
2 black cardamoms
½ Tbsp rose water
1 Tbsp salt or as per taste
For Chicken:
750 grams chicken – cut into pieces
1 Tbsp shah jeera or cumin seeds
¼ cup ghee
7 green cardamoms crushed
4 cloves
1 inch cinnamon stick crushed
2 onions sliced
For browned onion – 1 more onion sliced
1 Tbsp ginger paste
1 Tbsp garlic paste
4 green chilies slit
2 Tbsp biryani masala
½ tsp red chili powder
½ tsp turmeric powder
1 tsp coriander powder
1 Tbsp lemon juice
¾ cup yogurt
1 tsp kewra water
2 Tbsp chopped coriander leaves
Method
Step 1
Prepare Rice: 1. Wash and soak the Basmati rice for about 15 – 20 mins. 2. Now boil 5 cups of water with green cardamoms, black cardamoms, bay leaf, salt, rose water and lemon juice. Now add the rice and parboil it. 3. Spread the rice in a plate so that it will not stick to each other.
Step 2
Prepare Chicken: 1. Heat little oil in a pan and add sliced onion and fry it till brown. Drain and keep the onions aside. 2. Heat ghee in another pan and add cumin seeds (shah jeera), cinnamon and cardamoms. 3. Then add rest of the sliced onions and fry it. 4. Add slit green chillies, ginger garlic paste and sauté it for a minute. 5. Add chicken, biryani masala and salt. Mix it well and fry it in medium flame. Now, add turmeric powder, coriander powder and red chilli powder. Mix everything well and cook for a minute. 6. Add some portion of the browned onions and cook. 7. Now, add curd, kewra water and lemon juice into it. Cover it and cook till the chicken almost done. 8. Now take a big pan. Apply little ghee in the bottom. Make the layer of rice and chicken. Also spread some chopped coriander leaves in each layer. Put browned onions on top. 9. Now, put the lid and seal it with some dough. Put this pan on tawa and cook it for 40- 45 mins in low flame. 10. After minutes, switch off the flame and your murg noor mahal biryani is now ready to serve hot.