Paneer Bread Roll
2015-11-04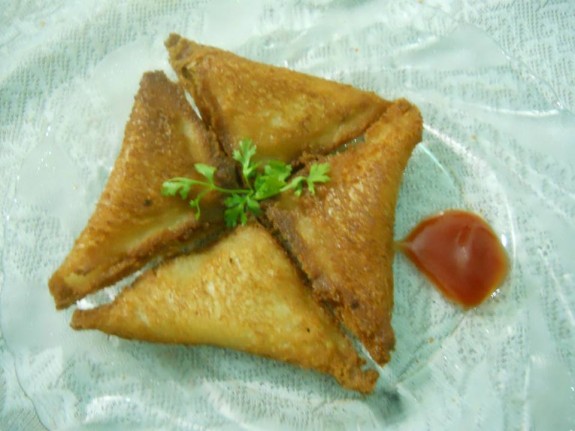 The name contains the term roll but it will taste like roll but shape like molding one bread slice into half. You can also give the same recipe in a rolling shape. Just to change the shape, all the ingredients and process will be remaining same.
Ingredients
4 bread slices
200 grams smashed paneer
1 onion finely chopped
1 tomato finely chopped
2-3 green chilies chopped
2 tsp ginger garlic paste
chopped coriander leaves
½ tsp turmeric powder
½ tsp red chili powder
½ tsp coriander powder
salt as per taste
chaat masala if required
oil to fry
Method
Step 1
For Stuffing: 1. Heat oil in a pan. Add chopped onions and fry them till light brown. 2. Add ginger garlic pate and cook for 1 min more. 3. Add chopped tomatoes and cook for 2 mins. 4. Add turmeric powder, coriander powder, red chili powder, chopped green chilies and salt and mix everything properly. 5. Now, add the smashed paneer and mix it well. 6. Cook for 3-4 mins. Add chopped coriander leaves and mix well. 7. Your Paneer Bread Roll Stuffing is ready.
Step 2
For Roll: 1. Trim the side of the bread slices. 2. Take a little water on your palm to make your palm moist. Take 1 bread slice on your palm to make the bread slice moist. 3. Now take little portion of paneer mixture and stuff it into the bread. 4. Moist the side of the bread with little water. Now fold the half of the bread and cover it with other part with the moist bread edges. If required you can also make a smooth paste of corn flour and water to cover the edges of the bread properly with the little paste so that stuffing will not come out from any side. 5. Repeat the same process with other bread slices. 6. Heat 1 inch of oil in a pan. 7. Now drop one by one bread stuffed slices on the oil. 8. Stir it from both the sides until it is golden brown in colour. 9. Your bread roll is ready to eat.