Paneer Kabab
2015-11-04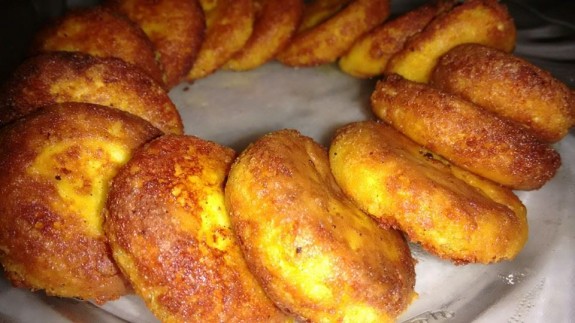 Find out this mouthwatering, spicy yet healthy and tasty Paneer Kabab recipe at The Masala Route to make your snack time with full of enjoyment.
Ingredients
300 grams smashed paneer
2-3 tbsp corn flour
1 large onion chopped
1 tsp coriander powder
½ tsp cumin powder
1 tsp garam masala powder
½ tsp turmeric powder
½ tsp red chili powder
1 tsp chaat masala powder
pinch of asafoetida
2-3 chopped green chilies
salt as per taste
chopped coriander leaves
oil for deep fry
Method
Step 1
Method: 1. Take a big bowl and add paneer. Smashed it properly. 2. Now add corn flour, cumin powder, chopped onion, red chili powder, chopped green chilies, coriander powder, turmeric powder, pinch of asafoetida, chaat masala, salt and chopped coriander leaves and mix all properly. 3. Divide the mixture equally in small balls. 4. Now take one ball in your palm and give the shape of the Kabab. Repeat the same process with other paneer mixture balls. 5. Heat oil in a pan about 1 inch. Drop one by one kebab on the pan and fry. 6. Turn it and fry the both sides until golden brown. 7. Your Paneer Kebab is ready. Serve it with green or tamarind chutney.