Payesh or Rice Kheer
2015-11-07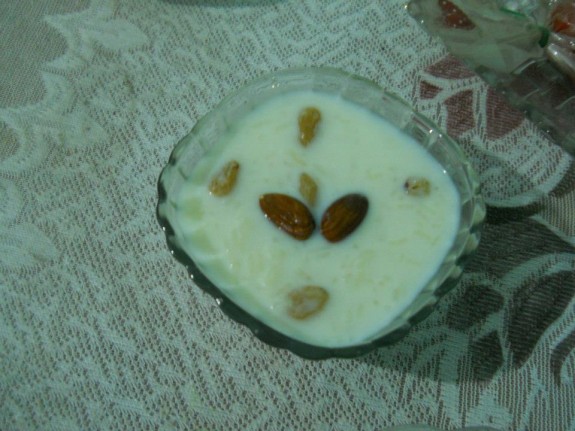 Learn how to cook Chaler Payesh or Payesh or Rice Kheer recipe in home which is absolutely delicious dessert.  This is easy, tasty and simple recipe to cook at home.
Ingredients
1 litre Milk
1/3 Cup Gobindo Bhog Rice or Basmati Rice ( It is suggested to use Gobindo Bhog Rice to get best taste)
½ cup sugar or more as required
4 small cardamoms
Dry Fruits – Cashew Nuts, Raisins, Almonds
Method
Step 1
1. Boil milk in a wide bowl and when it boiled properly pour the half of the boiled milk in another bowl. Keep it aside. 2. Now add 1 ½ cup of water on the milk and again keep it on the heat. Now, add 1/3 cup of Gobindo bhog rice and make the rice boiled and cooked. 3. Stir it continuously so that rice will not burn from the end of the pan. 4. Once the rice is almost cooked, you can add the sugar and the rest of the milk on this. Mix it well and again cook. 5. When the milk will start to reduce and the payesh will get thickened, add the dry fruits into it and cook for 2-3 mins more. 6. Turn of the heat. 7. Serve it in a bowl either cold or hot and garnish it with dry fruits on top.