Posto Bora or Poppy Seed Fritters
2017-04-11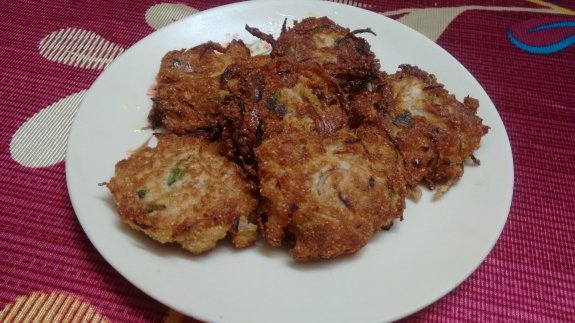 Posto has been used in Bengali food in various forms. Here, we are sharing the recipe of Poppy Seed fritters or Postor Bara. It is very simple and easy to cook fried item which is mainly served with steamed rice.
Ingredients
1 Cup of Poppy Seed Paste or Posto Bata
2 medium sized Onion sliced
1 tsp Ginger paste (optional)
1 tsp Garlic paste (optional)
4-5 Green Chilies chopped
½ tsp Kashmiri red chili powder (optional)
½ tsp turmeric powder
1-2 Tbsp Besan or Chickpea flour
Salt as per taste
Mustard oil or White oil to fry
Method
Step 1
1. Take a big bowl and mix all the ingredients – Posto bata, sliced onions, ginger-garlic paste, chopped green chillies, kashmiri red chili powder, turmeric powder, besan, salt and little water and mix everything well to prepare a batter for bara. If you want, you can skip ginger garlic paste. 2. The batter should not be very thick or very thin and medium in consistency so that you can make pakora/bora shapes from the batter. 3. Now, heat mustard oil in a pan and shape a fritter or bora kind of structure with your bare hands and put it on the pan. Let it cook at medium heat. Once the edges will be brown flip the other side and fry it until light brown in colour. Do the same process with the rest of the batter. You can fry 2-3 (not more than this) bora at a time.
Serve this hot with steamed rice.