Potato Toffees or Aloo Toffees or Aloo Bites
2018-07-14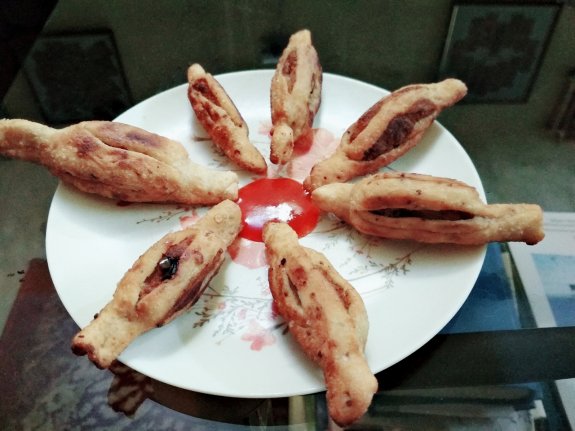 Potato Toffees are small bites of Potatoes that are look like toffees and tasty too. This is a unique and crispy snack that could be the right companion with your tea or coffee in the evening. The outer part is really crispy and the potato filling is also very fluffy. So, definitely try this recipe at home.
Ingredients
For Dough:
1 ½ Cup of All purpose flour or Maida
1 tsp of Carom seeds or Ajwain
2 Tbsp of oil or ghee
1 tsp of salt or as required
Water to make dough
For Filling or Stuffing:
2 Tbsp oil
2 tsp Green chillies chopped
2 big boiled and peeled mashed potato
1 Tbsp Chopped Coriander leaves
1 tsp of Chaat Masala powder
1 tsp of Kashmiri Red Chilli Powder
¼ tsp of Garam Masala powder
½ tsp of Black salt
4 Tbsp of Besan
1 tsp of salt
Oil for frying potato toffees
Method
Step 1
For Making Dough: 1. Take a big bowl and add all purpose flour, carom seeds and salt. Mix well. Now add oil and mix well until the oil mix with the flour very well. Now add water and make smooth dough. 2. Cover the dough with wet cloth and take it rest for 10 mins to 15 mins.
Step 2
For Filling: 1. Heat a pan and add 2 Tbsp oil. Now, add chopped green chillies, chopped coriander leaves, chaat Masala powder, kashmiri red chili powder, garam masala powder and black salt. To give a piling to the potato, we will add besan into it. Start mixing everything and roast the masalas for 1-2 minutes. This will give a very nice flavour to the recipe. 2. Now, add mashed potatoes and mix with besan and Masala mixture. Now, add 1 tsp of salt into the potato mixture. Mix well and cook for another 1-2 mins. 3. Keep the filling aside.
Step 3
Making Potato Toffees: 1. Remove the cloth from dough. Knead it one more it and divide the dough into small portions. 2. Now, take one dough portions and start rolling it out. You need to roll it out in an oval shape. 3. Take a small knife and cut 2-3 slices one by one in the centre of it. 4. Take a little bit of the filing and roll it down between your palms. Place the potato mixture in the center and sealed the edges. Now you will press the top and the bottom and give it a shape like toffee. Do the same process with the rest of the portions of dough to make all the toffees. 5. Now, heat oil in a Kadai and add potato toffees one by one in the oil. Fry the potato toffees in medium heat until it is light brown in colour. You can also bake the toffees in micro-oven at 200 degree Centigrade for about 10 minutes. 6. Take the fried potatoes out from the oil and serve it hot with some tomato sauce in your evening snacks.