Raw Mango Chutney or Aam ki Launji
2018-05-25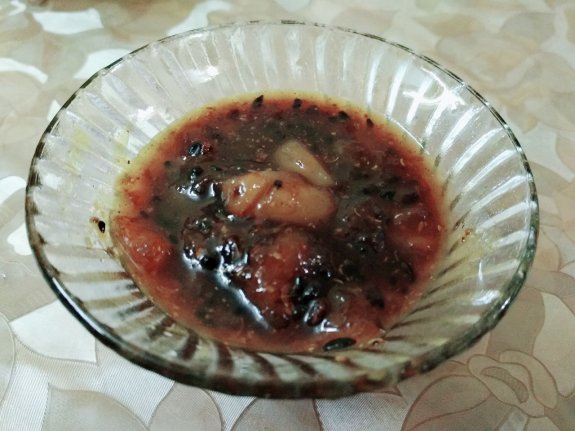 Raw Mango Chutney is one of the easy and authentic Indian dishes with many different uses. In North India, this recipe is called as "Aam ki Launji". Sweet ans Spicy Raw Mango Chutney is really great to have with your Lunch or Dinner Meal.
Ingredients
2 large raw mango – washed, peeled and sliced
2 cups of water
1 ½ cups of Jaggery or more as per the sour of Mango
½ tsp turmeric powder
1 Tbsp red chilli powder (You can avoid this if you want only sweet and tangy mango)
1 tsp roasted cumin powder
1 tsp salt
½ tsp Black Salt
2 Tbsp oil
¼ tsp Fenugreek Seeds (Methi)
1 Tbsp Black Onion seeds (Kalonji)
1 Tbsp Fennel Seeds (Saunf)
1/2 tsp Asafoetida
3 Cloves (optional)
Method
Step 1
1. Wash and peel the mango and chop them into bite size pieces. Keep it aside. 2. Heat oil in a heavy bottom vessel and add asafoetida, fenugreek seeds, black onion seeds, fennel seeds and cloves and allow it to splutter. 3. Now, add mango pieces and mix. Add turmeric powder and mix. Cook for 2-3 minutes on low flame. 4. Place lid to cover it and let cook the mangoes for another 5-6 minutes in their own steam. Now add red chilli powder and salt into it and mix everything well. 5. Add water and cover it. Cook it till almost done. It may take upto 10-15 mins. 6. Now add Jaggery and mix well. When jaggery leaves water and the consistency of the chutney is thin. 7. Now, Cook without lid for about 10 minutes or till the jaggery completely melted and the sauce or gravy get thick. 8. Now, add cumin powder and some more salt if required and switch off the flame. Once the chutney has cooled, it will get thick and you can then transfer it to the air tight bottle and refrigerate it for up to few days or even weeks. 9. Serve it as dip, dessert, spread or relish.