Shukto
2018-05-15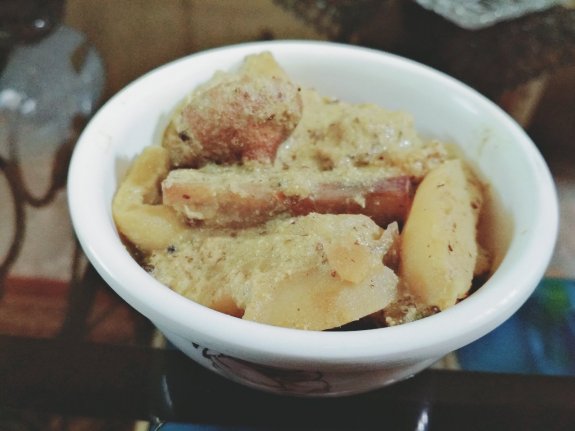 Bengali cuisine is always known for its endless recipes of fish as well as delectable sweets too. But there are also so many more complex parts of Bengali recipes which are made with different types of vegetables with intricate layers of taste among which "Shukto" is a famous one. It is a soothing rusting curry with a taste of bitterness that will definitely clear your palate before you go for other Bengali meal recipes like Cholar Dal, Chanar Dalna, Kosha Murgir Mangsho, Chingrir Malaikari and many more.
Shukto would never be completed without bitter gourd veggies. But it is also very important to remember to retain the shape of the vegetables chunks.
Ingredients
1 Large Potato (Aloo)
1 medium size Brinjal (Begun)
1 Sweet Potato
1 Raw Banana
2 medium sized Bitter Gourd (Karola)
1 Ride Gourd (Jhinge)
2 -3 Drumsticks – cut into one inch lengths (Sojne Data)
3-4 Pointed Gourd (Patal)
1 Tbsp Mustard Paste
1 Tbsp Posto Paste
½ tsp Turmeric Powder
1 Tbsp Ginger Paste
1 Tbsp Caraway Seeds (Radhuni) Paste
1 tsp mustard seeds and caraway seeds for Foron
2 small bay leaves
7-8 boris
Oil for frying the vegetables
Salt as per taste
A cup of warm water
1 tsp Ghee (optional)
Method
Step 1
1. First wash and peel all the vegetables except brinjal and bitter gourd. Now cut the vegetables into 1 to 3 inch of pieces. 2. How heat oil in a pan and fry the boris first. Then lightly fry all the vegetables of the shukto one by one and set aside. 3. Now, in another pan, add 1 Tbsp oil and add mustard seeds, caraway seeds and bay leaf. Once the foron crackles, add ginger paste. Saute for a minute. Now add caraway seeds paste into it but remember, it is always suggested that you just take the juice from the caraway seeds, not the whole paste and sauté for another minute. Also add little turmeric powder and salt as per your taste and mix. 4. Add vegetables and sauté with the above mixture. Add a cup of warm water, then cover and cook for 3-4 minutes on medium heat. 5. Now add the Posto and mustard seeds paste and mix well. Add fried boris and cook for another 3-4 minutes. 6. Finally turn off the heat and add ghee. Enjoy your bowl of Shukto with some hot rice.