Sooji Ka Halwa or Sooji
2015-11-05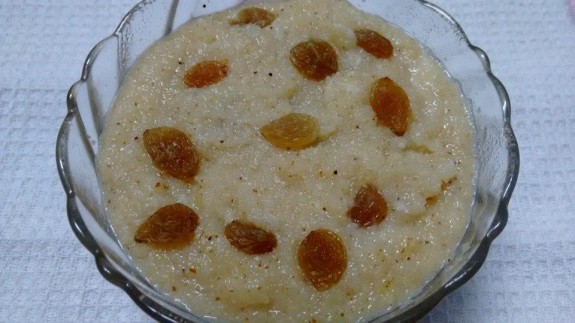 Starting from Diwali, Lakshmi Puja to Ganesh Chaturthi, we just want to something sweet Sooji Halwa is easy and quick recipe so that you can make this for any occasion.
Ingredients
1 cup sooji/rava/semolina
¾ cup sugar
4 cardamoms
3-4 tbsp ghee
10-12 cashews
1-2 tbsp raisins
1 tbsp almonds
1 cup water
1 cup boiled milk
Method
Step 1
1. Crush the cardamom into a fine powder and keep aside. 2. Also cut the almonds in thin slices and keep it aside. 3. Heat a kadai in low flame and add ghee into it. 4. Once ghee becomes hot, add semolina and cashew into it. Stir it continuously. 5. Stir it for minimum 7-8 minutes until semolina and cashew change its colour. Add water into it. 6. Cook it for 1-2 min and then add sugar cardamom powder, raisins and almonds into this. Mix all the ingredients well. 7. Sooji will absorb the water quickly, so add the milk and keep on stirring. Be careful as Sooji has the tendency to splutter. 8. As the mixture starts thickening, leave it from the kadai and serve it hot or cooled.
Related Post:  Diwali special recipe 2016