Favourite Spices Common in Emirati & Indian Cuisine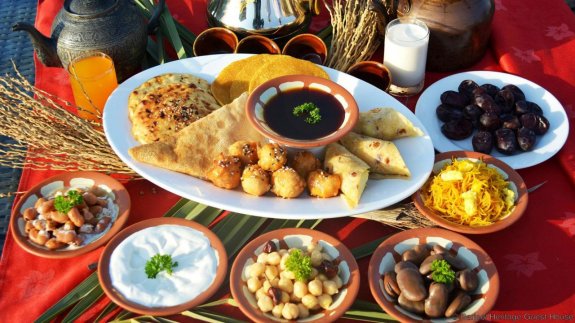 Image Credit: ( Barjeel Heritage Guest House)
Whether you're a fan of cooking or simply eating out and enjoying delicious Emirati and Indian foods, you will have noticed there is a subtle similarity in the taste of both cuisines.
Traditional Emirati food is dominated by dairy, grains, meat and fish as the region's infertile desserts were not conducive to the growing of fruit and vegetables. Dishes that are considered traditionally Emirati include those featuring grilled camel, goat and poultry; on a menu you might find arseeya, harees and maqlooba.
These days however, with over 2.6 million Indian migrants living in the UAE, it is hardly surprising that they have had an influence in the local cuisine, particularly in Abu Dhabi, Dubai and Sharjah.
The UAE and India have had historic and cultural ties which date back to more than 350 years ago. In fact, trade between the two countries involved spices from India which lead to the infamous name of the Spice Souk in Old Dubai.
Browse through Dubai's restaurants list and their menus, will find dishes with the following spices commonly appearing in recipes for both Emirati and Indian dishes:
Red Chilli Powder
Derived from dried cayenne peppers which are then ground up, red chilli powder offers a hot and mildly spicy flavour. To benefit from the maximum flavour of this spice it needs to be slightly roasted. Arabic dishes will use this spice moderately, whereas in Indian curries red chilli powder is a key ingredient.
Ground Coriander
This spice is made by grinding coriander seeds and is the basis of curry powders in both the Emirates and in India. The fragrance and flavour of ground coriander gives a distinct hint of citrus and to preserve flavour the coriander seeds should be lightly roasted before grinding.
Turmeric
This distinctly orange-yellow spice gives a pepper flavour and is an essential ingredient in Emirati curry dishes and most Indian dishes. In fact, turmeric has been cited for many health benefits as listed on the WebMD website and is well-known for its anti-inflammatory compounds.
Cardamom
Cardamoms are one of the most expensive spices in the UAE. Cardamom pods are a pale brown or green colour and contain tiny black shiny seeds. The flavour is warm, oily yet sharp and when eaten whole can give an anaesthetic effect on the tongue. Some chefs prefer to remove the seeds and grind them into a fine powder to create a cardamom powder. Cardamom is a versatile spice which can be added to both Emirati and Indian dishes, as well cakes, custards, sweet dishes and teas.
Saffron
This is the most expensive spice in the world. Saffron is derived from the flower of Crocus Sativus and has a strong flavour meaning only a little quantity is required for many recipes. It is considered essential for colouring and flavouring rice in most Arab dishes. Some gulf countries even use saffron for flavouring in breads and custards.
Each of these spices, especially red chilli powder, coriander and turmeric, are all so central to Emirati and Indian cooking that both cuisines have their own spice mixes comprising similar spices; Bezar (Emirati spice mix) and Garam Masala (Indian spice mix). The Bezar spice is thought to be the very essence of Arabian cooking and is commonly used especially as a rub for meats. Garam Masala on the other hand is a spice blend which is usually used as a base for many Indian dishes.
Tasting the Fusion
To gain a stronger understanding and appreciation of Indian and Emirati flavours, you can always visit a well-established restaurant and try some new dishes that might be considered by some to be a fusion of Emirati and Indian food, using the above spices in different ways. For the purists however, the Ravi Restaurant in Bur Dubai offers traditional Indian cuisine whereas Al Damyati caters with traditional Emirati and Arabic dishes.
BIO
Kumar Samtani is the co-founder of MenuPages. With an educational background in Industrial and Operations Engineering from the prestigious University of Michigan, Ann Arbor, Kumar's expertise lies in process improvement & operations management for all types of organizations. He is also an experienced entrepreneur with business interests in consumer goods, hospitality supplies and real estate.