Honey Dijon Mustard Macaroni Salad or Cold Pasta Salad
2018-06-23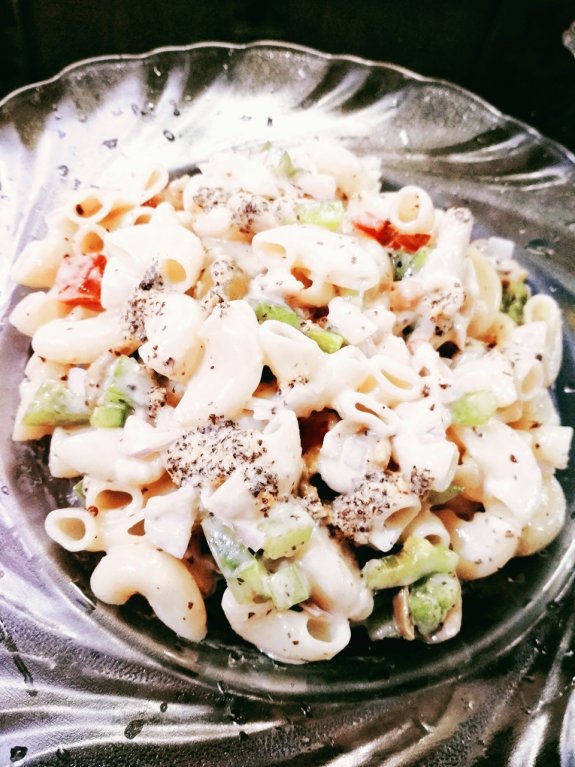 Yummy and tasty creamy pasta salad with the flavour of Dijon mustard will definitely win your heart. The Masala Route is presenting fun twisting on the old classic pasta salad that will leave you craving more.
You can find out some other pasta recipes from our website: http://themasalaroute.com/italian-recipes/ 
Ingredients
1 Cup of cooked macaroni pasta (cooked according to the instruction of the package)
½ red bell pepper diced
½ green capsicum diced
1 small onion diced
1 Tbsp green olives sliced
1 Cup Veg Mayonnaise
1/3 cup Dijon mustard
¼ Cup of Honey
2 tsp of garlic powder (optional)
2 tsp of salt as required
1 tsp black pepper powder
½ Cup of shredded Parmesan Cheese (Optional)
Method
Step 1
1. Take a big bowl and combine cooked pasta, diced bell pepper, capsicum and red onion and mix everything well. 2. In another small bowl whisk together mayonnaise, honey, Dijon mustard, garlic powder (optional), salt and pepper. 3. Now, add this mayonnaise mixture on the pasta bowl and mix everything to coat well. Taste and if required, you can add more salt and pepper. Cover it and chill it for atleast 1 hour in the fridge. Serve it with parmesan cheese on top (optional) or as it is.