Asian Raw Mango Salad
2018-05-10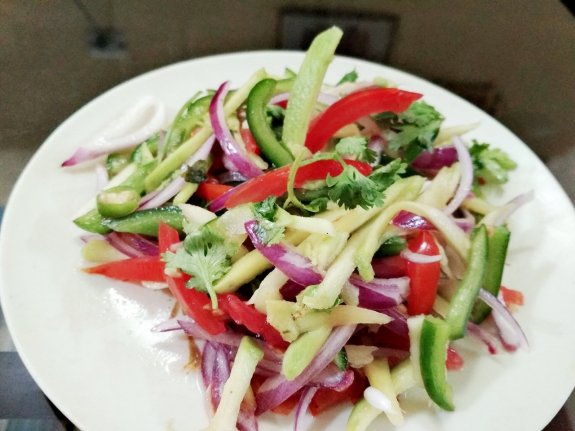 From the street food stalls of Bangkok to the kitchens of Five Star Hotels all over the world, this salad has carved a niche for itself in the hearts of food lovers. This raw mango salad's tastebud – awakening flavours will blow you away. In fact it is a bonus that it is very healthy with low in calories and fat.
You can also make Mango Salsa recipe  with the help of the Ripe Mango which is also yummy and tasty as well.
Ingredients
1 big unripe or raw mango peeled and cut into thin strips
1 red onion thinly sliced
1 red bell pepper thinly sliced
1 capsicum thinly sliced
1/3 cup chopped fresh coriander leaves
1/3 cup chopped mint leaves (optional)
1/3 cup chopped and roasted peanuts or cashew nuts (optional)
2 Tbsp lime juice
4 tsp granulated sugar or 2 tsp honey
4 tsp fish sauce (optional)
1 tsp vegetable oil (optional)
¼ tsp hot pepper sauce or vegetable chilli sauce
Salt as per taste
Method
Step 1
1. Take a bowl, whisk everything – coriander leaves, mint leaves, lime juice, sugar or honey, oil, chilli sauce and fish sauce. You can use chopped green chillies instead of pepper sauce or chilli sauce. 2. Now add raw mangoes, capsicum, red bell pepper and onion and toss to the coat. 3. Sprinkle with roasted peanuts or cashews and you can refrigerate it for up to 2 days also. 4. Serve it chilled.