Chicken Harra
2015-11-03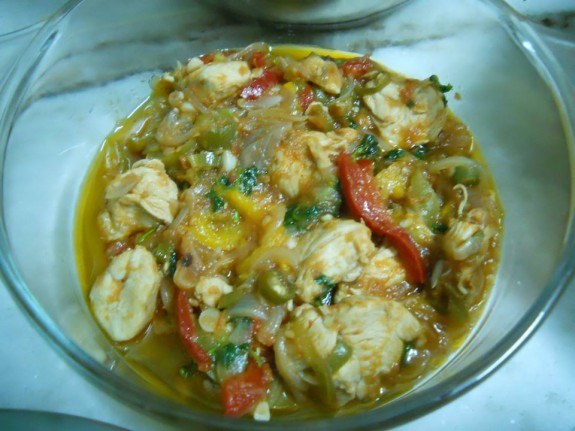 Chicken Harra is the combination of chicken pieces with some green, yellow bell peppers to give a greenery (harra) taste of the dish. Get the delicious chicken Harra Recipe from here.
Ingredients
1 ½ pounds skinless boneless chicken breast cut into small pieces
½ tsp salt
pinch of turmeric powder
¼ cup vegetable oil
1 tbsp butter
Red, yellow and green bell peppers cut into thin strips
4 green chilies chopped
1 onions sliced thin
1 inch ginger paste
4-5 chopped garlic pieces
1 lemon
½ cup water
½ tsp ground red pepper
¼ cup chopped cilantro or coriander leaves
salt as per taste
Method
Step 1
1. Season the Chicken pieces with salt and pinch of turmeric and set aside. 2. Heat oil in a pan and cook the onions until light brown in colour. Add garlic chopped and cook until the raw smell comes out. Then add the ginger paste and cook again for few minutes. 3. Add the chicken pieces and cooked until light brown. 4. Now add all the bell peppers and chili peppers into the pan and cook for another 5-6 mins. 5. Sprinkle some lemon juice (2-3 tsp) and little salt over the mixture. Add water and ground red pepper. Cook until the chicken will be tender or about to 30 mins. Add chopped cilantro and mix well. 6. Your hot Chicken Harra is ready to serve.