Cold Mango Masti / Banana Mango Grapes Shake
2015-11-06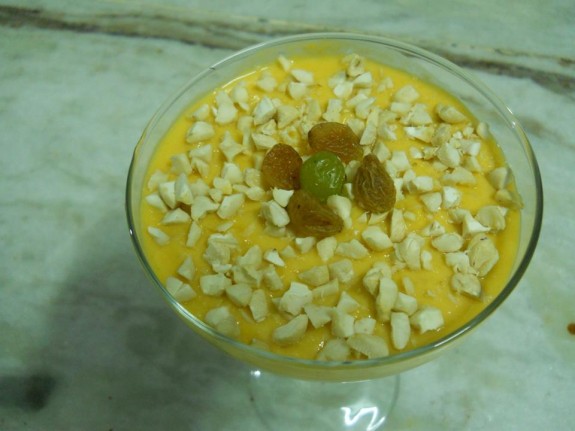 Mango is always healthy and tasty fruit which treat your family and kids in a various way. So do some fun with Cold Mango Masti or Banana Mango and Grapes Shake and make the recipe in home.
Ingredients
2 ripe mango chopped
1 banana chopped
8-10 grapes
3 tbsp honey/sugar
3 tbsp fresh cream
½ cup milk
3 small ice cubes (optional)
chopped dry fruits- cashews, pistachios, almonds, raisins
1 small ice-cream scoop
some chocolate chips (optional)
Method
Step 1
1. Wash and peel the mango and banana and chopped them. 2. Now add the chopped mango, grapes and banana in a blender. Add sugar or honey, ½ cup milk, fresh cream, dry fruits and ice-cream scoop. You can use mango ice cream or vanilla or banana too. 3. If you want, you can also add chocolate chips and ice cubes too. 4. Blend everything well till it smooth. 5. Pour it into a glass and spread chopped dry fruits on top to garnish. 6. Keep it in freeze to make it chill. Your Cold Mango Masti or Banana Mango Grapes shake is ready.