Gajar Halwa
2015-11-06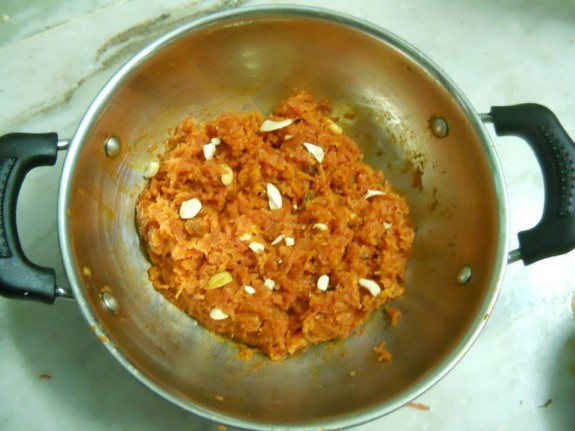 During winter, we mainly get carrot and make the gajar halwa. This recipe is famous in all over India, mainly in the Northern part. Find the steps to make Gajar halwa in home.
Ingredients
8 to 9 juicy carrots/gajar- approximately 4 – 5 cups grated carrots
4 tbsp ghee
10-12 tbsp sugar or as required
4 cups full fat milk
5 -6 green small cardamom or 1/3 tsp cardamom powder
golden raisins
cashew nuts
pinch of saffron (optional)
Method
Step 1
1. Peel and grate the carrots. 2. Add 2 tbsp ghee in a kadai and add the grated carrots. Stir it continuously until the raw smell of the carrots gone. 3. Add milk and bring the mixture to a boil in a medium flame. Keep stirring the mixture and keep it in a low flame. 4. The grated carrots will start to cook in the milk and milk will also reduce and start to evaporate. 5. When the milk become reduces to 75 %, add the rest of the ghee, sugar and cardamom powder in the mixture. Mix it well and stir continuously in low flame. 6. At the end add cashews, raisins and saffron and mix it well. Simmer the gas and stir till all the milk evaporated. 7. Garnish it with cashews or raisins and serve Gajar Halwa or Carrot Sweets hot or cold.