Jhal Muri
2015-11-08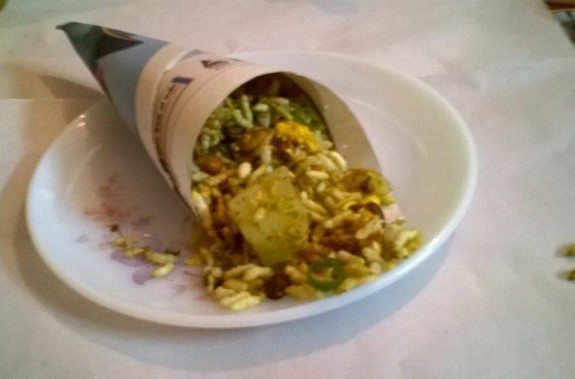 Jhal Muri is basically a type of chaat that has various names in various part of India. In Kolkata, it is little spicy and can get anywhere like in strain, bus, in street or road side or even in a well known street side dhaba too.
Ingredients
3 cups crispy puffed rice (muri)
1 cup namkeen or seva snacks or jhuri bhaja
3 tbsp boiled and chopped potatoes
1 tbsp coconut chopped
1 tbsp chopped coriander leaves
2 tbsp cucumber chopped
1-2 green chili chopped
1 tbsp raw mango chopped
2 tbsp tomato chopped (seeds removed)
2 tbsp onion chopped
1 tbsp roasted peanuts
1 tsp red chili powder
½ tsp chaat masla powder
1 tsp roasted cumin, coriander and garam masala powder
1 tbsp mustard oil
salt as per taste
Method
Step 1
1. Take all the ingredients in a bowl except mustard oil and puffed rice. 2. Mix well everything and add puffed rice. 3. Toss and mixed all the ingredients with the puffed rice. 4. Add mustard oil at the last moment and serve immediately.