Mirch Bhaji or Mirchi Pakora
2015-11-08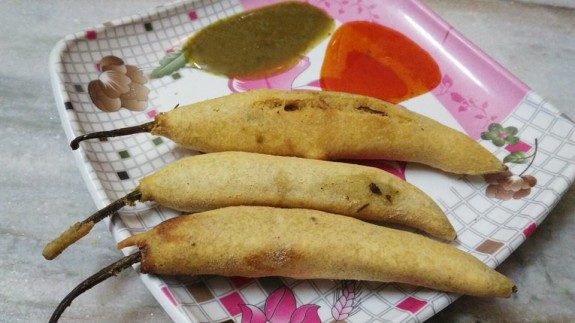 Mirchi Bhaji is a famous Hyderabad snacks and street food which you can also take as a side dish with your meal. Find out the Hyderabad Mirchi Bhaji Recipe.
Ingredients
For Filling:
7-8 Mirchi or Green Chili Fritters
3 tbsp Bengal gram
3 tbsp sesame seeds
1 tbsp coriander powder
3 tsp carom seeds or ajwain
2 tbsp amchoor powder
2 tbsp tamarind pulp
½ tsp salt or as per taste
For Batter:
1 ½ cup besan or gram flour
2 tbsp rice flour
½ tsp ajwain
1 tsp red chili powder
1 cup of water
salt as per taste
Method
Step 1
1. Wash and dry the green chilies and make a vertical slit on the middle of each chili. Remember to remove the white stalk and the seeds. 2. Mix all the above filling ingredients very well and make a paste with adding very little amount of water. 3. Stuff each chili with the mixture and set them aside. 4. Take a wide bowl and mix all the batter ingredients stated above to make a fine paste. Prepare medium thick batter. 5. Heat 1 inch oil in a pan. 6. Dip the chilies in the batter and gently drop it on the oil to fry them. /deep fry each chili until golden brown in color. 7. Remove the extra oil with paper towel. 8. Take this chopped onion, lime juice and chopped coriander leaves. If you want, you can slit the fried chili and make the onion, lime juice stuff onto it. 9. Serve it hot.