Pav Bhaji Recipe
2015-12-30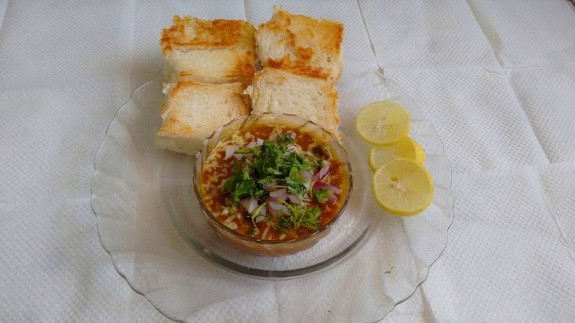 Pav Bhaji is more than snacks that can be preferred as quick meal in the heart of Mumbai. You can have this as a meal during lunch or dinner or have it as evening snack or morning breakfast. It is totally your choice of taking this delicious dish.

Ingredients
3 medium size potatoes
1 cup chopped cauliflower
1 cup chopped carrot
1 cup peas
½ cup chopped french beans
1 finely chopped large onion
1 medium capsicum- finely chopped
2 -3 large tomatoes- finely chopped
2 tsp ginger-garlic paste
2 green chillies chopped
2-3 tsp lemon juice
½ tsp garam masala powder
3-4 Tbsp Pav bhaji masala (as per the spicy you want)
1 tsp red chilliy powder
1 tsp cumin seeds
1 tsp turmeric powder
5-6 Tbsp Butter
2 Cups water or as required
salt as per taste
10-12 pavs to serve with bhaji
For Garnishing:
2 Tbsp grated cheese
1 small onion chopped
2 Tbsp coriander leaves chopped
Some butter
Method
Step 1
1. Rinse all the vegetables and cut into small pieces. 2. Boil all the vegetables except onions, capsicum and tomatoes. 3. Now, finely chop the tomatoes, capsicum, onions and green chillies and keep this aside. 4. Once everything has been cooked, remove it from the boiled water and lightly mash them with potato masher. 5. Now heat a pan and add butter. When butter melts add cumin seeds. 6. When the cumin seeds sizzle, add chopped onions and sauté it till they become translucent.
7. Now add the ginger garlic paste and sauté it till the raw aroma disappears. 8. Add tomatoes and cook it till they become soft and mush. Cook it for 6-7 minutes in low flame and then add green chillies chopped. 9. Add chopped capsicum and again sauté for another 2-3 mins. 10. Now add turmeric powder, pav bhaji masala, garam masala and red chilly powder and mix all the dry spices well with tomatoes and capsicum and fry for couple of minutes. 11. Now add mashed boiled vegetables. Combine it with all the masalas. 12. Add salt and warm water. Now, with the potato masher mash all the vegetables directly on the pan. 13. Keep stiring and let the bhaji cooked for 10-12 mins on lower flame. The consistency should not be very thick or thin of the bhaji. 14. When it comes to the desired consistency, check the taste. If you want more spicy, you can add more pav bhaji masala, red chilly powder, salt or butter too if required. 15. Add lemon juice and mix well. Garnish with chopped onions and coriander leaves with some cheese or butter. 16. Heat a pan and add butter. Lightly fry the Pav slices (cut into half). 17. If you want to make the pav crispy fry for few minutes. 18. Serve the pavs with garnished hot bhaji.