Mix Veg or Kachumbar Raita
2016-06-05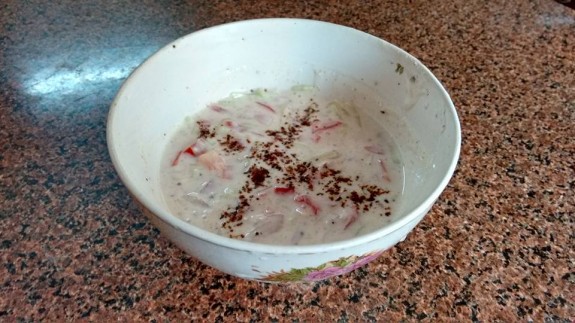 A Mix Indian vegetable with low fat yogurt/dahi, this hearty Raita is very simple Indian dish. Kachumbar is mainly Indian salad with chopped tomato, cucumber, onion, sometimes grated carrots or shredded cauliflower with the dressing of yogurt/curd/dahi. You can serve this as a side dish with biryani or meal.
Ingredients
2 Cups low fat yogurt/dahi
½ cup chopped cucumber
½ cup chopped carrot
½ cup chopped capsicum
½ cup chopped tomatoes
½ cup chopped onions
½ cup shredded cauliflower
2 Tbsp chopped coriander leaves
1 tsp chopped chillies
1-2 tsp roasted cumin powder
½ tsp black pepper powder
½ tsp red chilli powder
½ tsp chaat masala powder
Sugar as required (optional)
Salt as per taste
Method
Step 1
1. Take a big bowl and add yogurt, salt, sugar, cumin powder, red chilli powder, black pepper powder and chaat masala powder. Beat everything very well until yogurt becomes smooth without having any lumps. Keep it aside. 2. Now, arrange all the vegetables and chopped them properly. Add all the vegetables into the yogurt mixture. 3. Toss everything very well in the yogurt mixture. 4. Garnish with chopped coriander leaves or chaat masala powder and keep in refrigerator for about 20-30 mins. 5. Serve the raita chilled with rice, roti, paratha or biryani.