Yogurt Grapes Kulfi
2016-05-04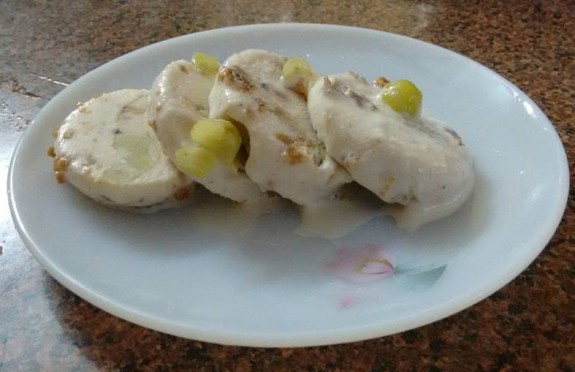 Make this yummy & unique yogurt grapes kulfi ice-cream and treat yourself and your family or guests something special with this tasty dessert. I am damn sure, they will love this.
Ingredients
1 Cup Yogurt
½ Cup Milk
5-6 chopped grapes
1/3 cup crumbled short cake
2-3 Tbsp sugar
Method
Step 1
1. Mix the yogurt, milk and sugar together and blend it until completely smooth. 2. Now mix half of the shortcake and again blend it. 3. Divide the mixture into different molds. Add chopped grapes and crumbled cakes equally in each mold. 4. Let freeze it completely for about 3-4 hours or more. 5. Take out from the freezer and remove it from the mold. 6. Serve it on the plate immediately. You can cut it into pieces and serve it.