Easy to Make Sandwich with the Help of Panini Sandwich Maker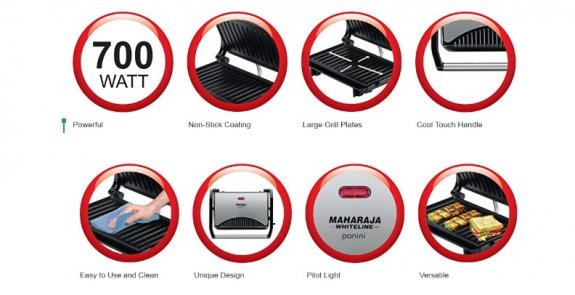 In this modern and tight scheduled life, we are all busy. In such case, we are not at all able to take our food on time. Most of us skip breakfast due to insufficient time and hurry to reach office. However, we know that breakfast is the important part of our daily life as it is typically the first meal of the day which brings energy in your body so that we can work out the whole day with full energy. So, it is necessary to have full plate breakfast everyday within our so called limited time. Thus, we are here presenting you Panini Sandwich Maker which comes from Maharaja Whiteline that will save your time; make healthy yet yummy and tasty breakfast.
You can make quick and easy different types of Sandwich recipes in this Sandwich maker. The interesting part of this Sandwich maker is that you will get crunchy grilled tasty sandwiches with non-stick large grill plates and bigger surface for grilling tasty snacks. Another good feature of this Sandwich Maker is that of its pilot light indicator. Making various sandwiches whether it is veg or non-veg is easier for you with grilling facilities. Not only grilled sandwiches, you can even enjoy different types of delicious and healthy snacks, grilled paneer tikka and other recipes to treat yourself , your family and friends as well.  Get some easy to make sandwich recipe tips here:
Aloo Ajwain Grilled Sandwich or Potato Carom Seeds Grilled Sandwich: this one is really quick recipe and perfect to make in your hurry time of breakfast.
Ingredients
You just need 2 big size boiled potatoes, bread, about 1 tsp carom seeds, 2 Tbsp butter and salt for taste. Just mash the boiled potatoes in a big bowl and add salt, ½ Tbsp butter and carom seeds into it.
Recipe
Take each bread slices one by one and spread butter on both sides. Now, place thin layer of mixed potato between 2 bread slices and place it in the sandwich maker till both sides evenly done. Serve this Sandwich hot with some sauce or chutney.
Junglee Chicken Sandwich: This is one of the delicious and creamy Sandwich recipes to have in your breakfast. However, there are lots of vegetables that you need to cut into small pieces or have to chopped properly that may take some time but to save your time you can cut all the vegetables in the previous night and keep it in the zip lock bag in your freezer.
Ingredients 
So, what you need for this recipe is each vegetable in 1 piece – chopped onion, grated carrot, chopped capsicums, thin sliced beans, chopped coriander leaves and chopped green chillies, boiled chicken slices  and some bread slices cut into triangles.
Recipe
Take all the vegetables in a bowl and mix it with chicken slices, mayonnaise, green chutney, salt, black pepper powder and Chaat Masala powder properly. Now spread butter on both sides of the bread slices and spread vegetable mixture between the bread slices and grilled them in the Sandwich Maker. Serve it immediately.
For the above Jungle Chicken Sandwich, you can make the same recipe without chicken slices which will also be delicious same as Junglee Chicken Sandwich. So, choose Panini Sandwich Maker to have some relaxing moments as this one is the elegance for delicious breakfast.