Curried Chicken Sausage Tomatina
2015-12-29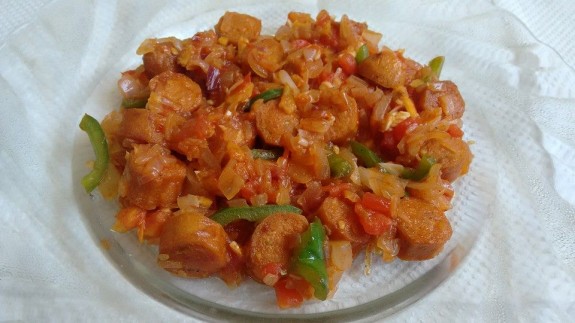 Curried Chicken Sausage Tomatina is a delicious dish which is a guaranteed success among all. You can serve this not only as an appetizer but also as main course as per your wish.
Ingredients
3 Chicken Sausage – cut into small pieces
2 medium onion chopped finely
3-4 garlic chopped
½ tsp ginger chopped
½ Capsicum – cut into thin slices
1 large tomato chopped
1 Tbsp tomato sauce
½ tsp red chilli powder
2-3 green chillies chopped
salt as per taste
1 tbsp oil
Method
Step 1
1. Heat oil in a pan and lightly fry the chicken sausage pieces. 2. Remove it from the oil and keep it aside. 3. Now, add chopped onion on the same oil and fry it until lightly brown. 4. Add ginger-garlic chopped and fry it for 2-3 mins. 5. Now, add the chopped tomatoes and cook it until tomatoes become soft. 6. Add capsicum and mix it properly. 7. Add tomato sauce, red chilli powder, green chillies and salt and mix everything well. 8. Add fried sausage and toss everything and cook it for another 1-2 minutes. 9. If it is too dry, then add 2 Tbsp warm water and cook it for 1 minute. 10. Serve it hot.