Eggless Sesame Seed Cookies
2016-06-03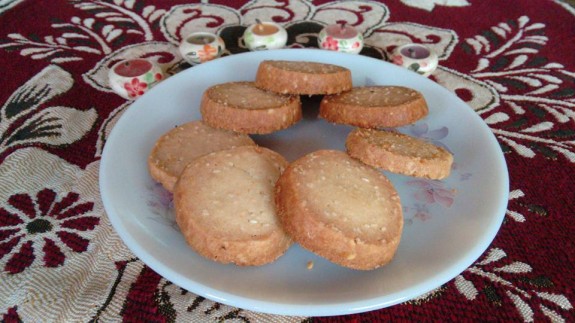 Cookies are always favorite for kids and elders too whether it is honey oatmeal cookies, chocolate cookies, ginger cookies or any other. Eggless Sesame seed cookies are delicate, light, crisp with a delightful sesame taste. Find the step by step process to prepare this cookies at home.
Ingredients
500 gram Unsalted Butter
300 gram Sugar dust
700 gram all purpose flour
100 gram sesame seeds
Method
Step 1
1. Take a big and add butter and sugar dust into it. Blend it by the hand blender until the texture of the mixture becomes creamy and smooth. Those who don't have hand blender, they mix this by their right hand palm in the plate in a circular motion till the quantity will increase. 2. Now, add the flour into it and rub the mixture in between both of your palm so that everything mixes well. The mixture should be like a dust form (not like a dough form). Do this process for few minutes. 3. Now try to make dough with the mixture and create a log roll with the dough just by your hand. 4. Now, cut the dough piece by piece according to the size and width of the cookies. 5. Preheat the oven to 325 degrees. Line the baking tray with baking sheets with parchment paper or grease butter on the baking tray. 6. Place the cookies in the baking tray and spread sesame seeds on top of the cookies. Bake it for 5-8 mins or less or more until light golden brown. You need to check as the time may vary according to the thickness of the cookies. 7. Remove from oven and cool it on the wire rack.