Papadum Taco or Poppadom Taco
2018-06-11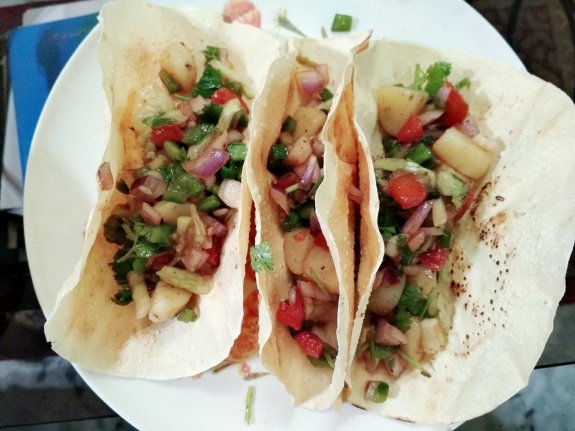 A taco can be made with different types of filling including meat, fish, seafood, chicken, cheese, vegetables and many more versatility which allow great variety as well.
Our Poppadom Taco is really very simple to make and you can easily make this recipe at home with your regular items in your home. This would definitely bring lots of fun in your evening snacks when you are in party or chilling mood.
You can make different types of Taco recipes like Taco Cone Spicy Chick Peas.
Ingredients
3-4 Poppadom or Papadum or Papad
3 Big size Boiled Potatoes – cut into cubes
1 Big Tomato chopped
1 Medium Green capsicum chopped
1 Big Onion chopped
½ Red Bell Pepper chopped
2-3 green chillies chopped
2Tbsp chopped fresh coriander leaves
1 Tbsp lemon juice
salt as per taste
1 tsp Chaat Masala powder
1 tsp Black pepper powder
Method
Step 1
1. Take a big bowl and mix all the ingredients one by one except Papad or Poppadom. First add boiled potatoes, onions, capsicum, bell peppers and green chillies. Mix everything well. Then add salt, black pepper powder and Chaat Masala powder and again mix. At the end add lemon juice and chopped coriander leaves and mix everything well. Keep it aside. 2. Now lightly roast all the poppadom one by one ad bent it to give it a shape of Taco. Remember that you have to roast one poppadom at a time and quickly bent it to give it the shape of taco while it is hot. If the Papad would become cool, then it will become crispy and would not be possible to give the taco shape. 3. Now fill each taco with the potato mixture and serve it immediately, otherwise the papad taco will become soft.