Jamun Fruit Yogurt Popsicles or Jamun Fruit Kulfi
2016-06-05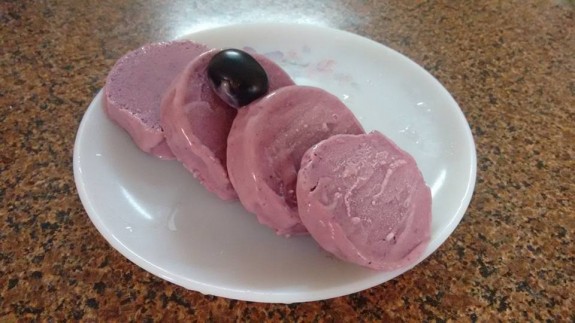 When it comes to ice-cream or kulfi in summer, kids' even elders are also very excited to have this. In fact, I am also in loving of ice-cream. Bu it is not always possible to go outside and have ice-cream which may be harmful in some cases. So, I try to make either ice-cream or mango kulfi or yogurt grapes kulfi or watermelon popsicles at home so that everyone will get proper nutrition and flavour as well as enjoy the dish.
This time I tried to make jamun fruit popsicles or jamun fruit kulfi which is loaded with full of flavours. Its sweet & sour taste and deep purple colour is really making them favourite for all. This fruit is really boom for diabetic patient.
Ingredients
¾ cup Fresh and frozen Jamun fruits
¾ cup thick yogurt/curd/dahi
3-4 Tbsp sugar
1 ½ Tbsp milk
Method
Step 1
1. Wash the fruits properly and remove the seeds. Chopped the flesh and mash it roughly. 2. Now, add mashed fruits, yogurt, sugar and milk in a mixer and blend it into a smooth mixer. 3. Pour the mixture into the popsicles mold. 4. Keep it in the freezer until it will set. 5. Just before serving, remove the mold and gently pull it out. You can have this as it is as kulfi or else you can cut into pieces and have this as small bites ice cream popsicles.