Mango Rice Kheer or Aamer Payesh
2016-06-30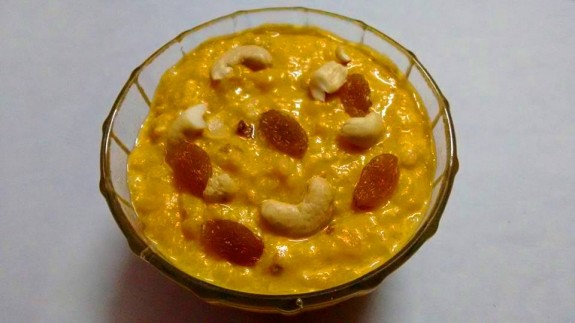 Mango Rice Kheer is a flavourful desert which is very refreshing summer sweets too. This recipe is usually serve cold after keeping it in the refrigerator but one can also take this in normal temperature too. Rice Kheer itself is a very delicious recipe but when it mixed with Mango it becomes more delicious. Mango lovers would definitely love this dessert.
Ingredients
1 ltr cow milk
1/3 cup Basmati Rice or Bengal's special aromatic rice "Gobindobhog"(soaked into cold water for about 30 mins)
½ cup sugar or as per your requirement
1 ripe mango chopped and blend to make mango pulp or ½ cup mango pulp
chopped cashew and raisins
Method
Step 1
1. Take a bottom depth pan and boil the milk very well until milk becomes half in quantity. Keep it aside. 2. Now, take another large pan and add half water and half milk. Boil it properly. 3. Now add the soaked rice into the pan and boiled the rice with the milk. When rice will be cooked, add enough sugar and rest if the milk and boil for another 5 mins until pudding becomes thick. 4. Add mango pulp and mix this with rice kheer or payesh. Cook it for 2-3 mins more. 5. Let the payesh/mango rice kheer cool completely and pour it in a small bowl. Garnish this with chopped cashew nuts and raisins.