Mango Sandesh or Aam Sandesh
2018-07-13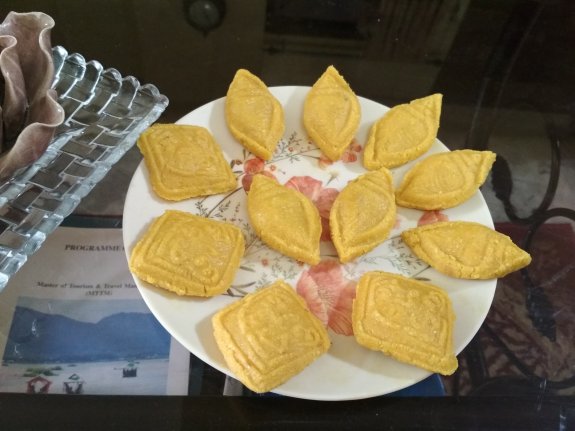 Bengalis are always loved for sweet dish and if you talk about Sandesh, they simply adore it. There are several types of Sandesh in Bengal where the name depends on their size, shape, flavour and texture as well.
Mango Sandesh or Aam Sandesh is basically milk based sweet fudge infused with real mango flavour is an exquisite Bengali sweets or dessert. So, try this recipe with our other Mango recipes at home.
Ingredients
1 Litre Milk
1 Cup fresh, sweetened and thickened Ripe Mango Pulp
1/4 Cup of powder sugar
Lemon juice to curdle the milk
½ Cup of Milk Powder
Different types of Sandesh Moulds
1-2 tsp Ghee
Method
Step 1
1. Boil the milk and curdle it with lemon juice. Remove from heat and make it cool. 2. Now, drain the whey by using a muslin cloth and collect the cheese. 3. Knead the chaana or cottage cheese with your palm for upto 10 minutes or until it become smooth and soft. 4. Slightly warm a nonstick pan by keeping it in the gas oven. Put the Sweetened fresh Mango Pulp, Chaana and Sugar and mix thoroughly. Cook it on low heat and stir it continuously. Add Milk powder into it and mix it properly. 5. Now, you will notice that it gradually changes it colour and texture. When towards done, it will form like dough. Remove it from heat immediately and transfer it in a bowl. Lightly cool it. Now it is ready to be moulded. 6. Now take one mould and grease the inner design slightly with ghee. Take some chaana and pressed it into the moulds. Give a neat shape by smoothing the edge and gently take it out from the mould. 7. Repeat the same process with the rest of the Moulds and Chaana. 8. Serve this Mango Sandesh Chilled or at room temperature.