Chhole Peyaz Pulao
2015-11-23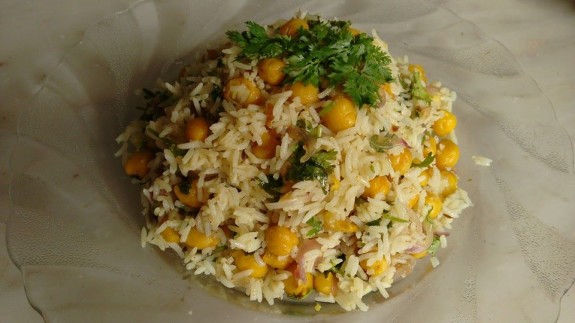 Chhole Peyaz Pulao is an easy to make recipe in all household.  This innovative preparation of pulao infused with chickpeas, chhole masala and golden onion can be served as an accompaniment to any Indian dish. One special dish for any special occasion including Guru Nanak Jayanti, Diwali and more.
Ingredients
1 ½ cups of boiled chickpeas or kabuli chana
3 cups of cooked rice
1 tbsp oil
1 tsp cumin seeds
2 tsp chopped garlic
2 tsp chopped ginger
2 medium size onions sliced
3 tsp Chole Masala (coriander powder, dry mango powder, cumin powder, red chilli powder, black salt, pomegranate seeds, dried ginger, mint leaves, fenugreek leaves, cardamom, nutmeg, cloves, mace salt as per taste etc.)
1 tbsp chopped coriander leaves
Method
Step 1
1. Heat oil in a pan and add cumin seeds. 2. While the seeds start crackling, add chopped ginger and garlic. Sauté it for a minute. 3. Add onions and sauté till golden brown. Now add the chick peas and mix it well. Stir and cook it for 1 minute. 4. Add salt, Chhole Masala and rice and mix everything well. Cook for a minute. 5. Add 1 tbsp chopped coriander leaves. 6. Your Chhole Pulao is ready. Serve hot.
Find some more Guru Nanak Jayanti Recipes: