Chilly Soya Chunks Gravy
2016-12-30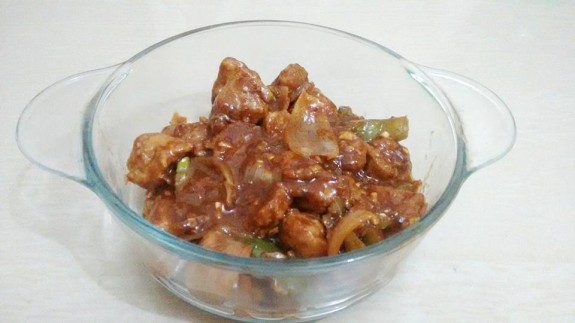 Chilly Soyabean in Gravy is one of my favourite Chinese dishes in vegetarian recipes. It is one of a great substitute for chilly chicken. Cooked with the flavours of Soya sauce, garlic and green chillies will add a spice in this Soya Nuggets recipe. This is a protein based dish that can be easily served with fried rice or Vegetable Hakka Noodles or may be with Indian Parathas too.
Ingredients
100 grams Soya Nuggets/Chunks
1 big onion cut into cubed/diced
1 big onion finely chopped
1 Tbsp Ginger garlic paste
3 Green chilies
2 Dry red chilies
1 Green Capsicum cut into cubed/diced
2-3 Tbsp Soya Sauce
1 Tbsp Chilly Sauce
2 Tbsp Tomato Sauce
2 Tbsp Sesame oil/White oil
½ Cup Water or as required
3 – 4 Tbsp corn flour(Optional)
pinch of salt or as required
Method
Step 1
1. Soak the Chunks in hot water for 10-15 mins. Remove it from hot water after 15 mins and pour the soya chunks into cold water. Keep it in cold water for 5 mins and drain the water and squeeze. Keep it aside. 2. However, this is an optional step but I did this step just to make the chilli soya chunks for tasty. Take a bowl and add corn flour, 1 tsp soya sauce ½ tsp ginger garlic pastes, 1 tsp tomato sauce, little salt and 2 Tbsp water or more. Mix everything well to make a medium thick batter. Now add all the squeezed soya chunks into this and keep it aside for 10 mins. Take a pan and heat oil in it. Add the entire soya Nuggets one by one and fry it until brown in colour. Remove it from the pan and keep it in a plate. Remove extra oil from tissue. 3. Now heat oil in another pan and lightly fried the diced onions and capsicums. Keep it aside. 4. Add chopped onion on the same oil and fry it until light brown in colour. Add ginger garlic paste and sauté for another few seconds in low flame. Add dry chillies and sauté again. 5. Now, add soya sauce, chilly sauce, tomato sauce, salt and mix everything well. 6. Then add 1 cup of warm water and allow it to boil. Add fried soya chunks and diced onions, capsicums. 7. Take a small bowl and add 1 Tbsp corn flour with ¼ Cup of water. Mix it well so that no lumps will be there. 8. Now add the corn flour mix water into the pan and allow it to cook for 5 mins more. Add little bit of soya sauce and tomato sauce more and mix well. 9. Now the gravy will become thick. Check the salt and chilies. 10. Now, the Chilly Soya Chunks Gravy is ready to serve.