Vegetable Spring Rolls
2017-01-03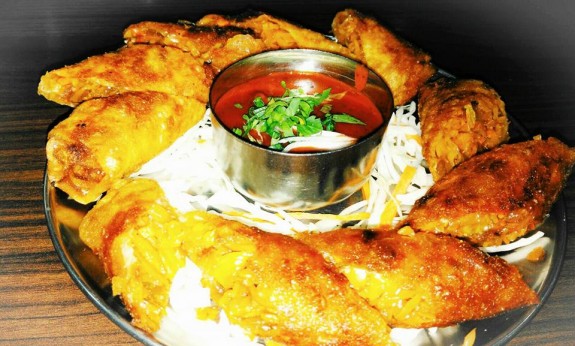 Filling of vegetables and Noodles, the vegetable spring roll is one of the famous Chinese snack to have it in any festival or in regular day. You can skip adding of noodles in the veggie filling recipe into this yummy and tasty dish.
Ingredients
2 Cups Shredded Cabbage
2 small carrots or ½ Cup shredded carrots
1 Small capsicum thinly sliced
2 – 3 small to medium spring onions chopped
1 big onion thinly sliced
4-5 garlic cloves chopped
1 Tbsp Soya Sauce
1 Tbsp Tomato Sauce
1 Cup cooked noodles (optional)
3 Tbsp sprouts (optional)
1/2 tsp black pepper crushed
salt as required
oil for deep frying
15-12 spring roll wrappers
2-3 Tbsp all purpose flour or corn starch
3-4 Tbsp water or as required
Method
Step 1
1. Heat 2 Tbsp oil in a pan. Keep the flame on medium intensity. Now add sliced onions and chopped garlic. Lightly sauté both the onions and garlic. 2. Now add all the veggies, carrots, cabbages, capsicums and mix well. 3. Stir the veggies and increase the flame. Stir it for 4 -5 minutes in high flame. 4. Now, add salt, crushed black pepper, soya sauce and tomato sauce. Stir everything well. 5. Add the cooked Noodles and stir again. Your filling is ready. Keep it aside to cool down. 6. Take a bowl and add all purpose flour or corn starch with 4 – 5Tbsp water. Stir very well to make a thick paste without any lumps. 7. Now take the wrapper, place some portion of the veggie fill on one side. Now, with your finger tip, apply the paste on the edges and gently but tightly roll it. Seal the end and place the sealed side of the roll downwards. 8. Do the same process with all the other spring rolls wrappers. 9. Now, heat the oil in a pan for deep frying. Gently slid the spring roll one by one. Once the rolls become light golden, turn the other side and fry it. Fry all the rolls until they become crisp and golden in colour. 10. You can also fry a big spring roll wrapper and cut into pieces while serving this. 11. Drain excess oil in kitchen paper towels. Serve hot with tomato ketchup.