Rasgulla or Rasogolla Recipe
2016-05-28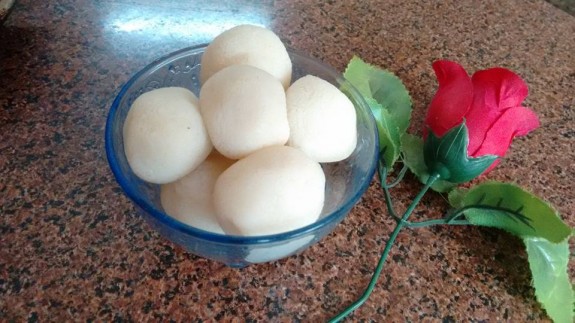 Like other Indian sweets of 'gazar ka halwa' or 'kheer', rasgulla is also favourite for all of us. Making rasgulla or rasogolla is an art comes with practice because the soft, spongy texture is not so easy to make which could easily melt in your mouth. It is really necessary to add each ingredient properly without which the rasogolla may broke and melt in its sweet 'rash'.
But we should remember the thing while making this sweet that always need to use good quality fresh fat milk because the milk can affect the texture of rasgulla very much.
Ingredients
1 ltr fresh whole milk
½ cup curd/whisked yogurt or 2 Tbsp lemon juice
1/3 tsp baking powder
1 Tbsp corn flour
1 ltr ice cold water
1 ½ cups of sugar or more according to your taste of sweetness
2 ¼ cups of water
¼ tsp cardamom powder (optional)
½ tsp rose water (optional)
Method
Step 1
1. Take a heavy bottom pan and pour the milk. 2. Bring the milk to boil and pour yogurt or lemon juice. Mix it well. If you are using lemon juice, then dilute 2Tbsp lemon juice with 2Tbsp of water and add it. Use as you need. 3. Let the milk curdle and switch off the gas oven. Leave it for 2 mins. If the milk will not curdle within 2-3 mins then add some more curd while boiling the milk. 4. Now add chilled water into the curdle milk. Keep it aside for 2-3 mins. 5. Collect the 'chaana' or paneer in a muslin cloth. Rinse it under running water only if you use lemon juice for curdle. 6. Now, tie up the cloth and hang it for 40-45 mins so that all the excess water would drain. 7. In another pan, add water and sugar and bring it to boil to make "rash". 8. While all the excess water will drain, add baking powder and corn flour into it and knead the 'chaana' or paneer mixture very well to make smooth dough. Now take small portion from the dough and make a tiny ball. Do the same process with rest of the chaana dough. All the balls need to be tiny. 9. You can add rose water and cardamom powder to the boiling sugar syrup. However, this is optional. 10. Now add the balls one by one gently. Cover the pan with lid and cook for 8-10 mins on medium flame. Gently stir it every 3 mins to ensure the cooking and puffing of the balls. You can see the balls will be double in size when it will complete. Boiling the balls in the right amount of time at right heat is very important to get good rasogolla. Overcooking or heating could break the balls and make it rubbery.
Find out our other Rasogolla recipes including Mango Rasogolla or Mango Rasgulla or Aam Ke Ragulle recipe at The Masala Route website.