FATHER'S DAY 2018: Celebrate The Love in its Simplest Form with Food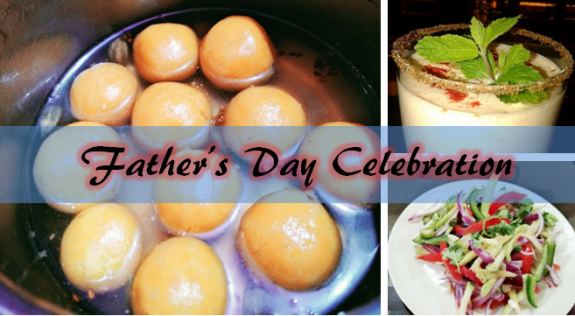 We all have that special relation with our dad that does not require too many words to express and is curtailed to a few sentences or simply some words. Still father's love is like the shade of tree, in the absence of this shade the harshness of the world will simply devoid you of all your happiness and innocence. This father's day let us celebrate the day and honour your father with some simple dishes that you need to curate for your first love or the first super hero of your life. It simply need not be elaborate but should be simple as our fathers are still the same horse that took us for rides innumerable time.
So, spend the entire day by planning with Dad in different ways to celebrate with him with his favourite food that he loves to eat. In fact you can make some new dishes and give him surprise. It may happen that your father loves to eat spicy food or may be some sweet dishes, so while giving him surprise make sure that add his favourite type of dish in the menu.
Starting with the bread pizza to kick start the day and the same time it will leave your father awestruck. A humble recipe that is easy to make and delicious to eat. All you need is a few slices of bread and if you take multigrain or whole wheat bread it will enhance its nutritional value. Add butter and cheese to the recipe to butter your dad along with olives, basil and peppercorns to give it the international look. All wholesome breakfast recipe to pamper your dad like never before.
To compliment bread pizza you can include an egg bhurji in the menu as it will make the meal complete and fulfilling. A very simple and quick recipe with goodness of eggs. For this all you need is eggs, onion and some spices, just whisk it and cook it on flame and its done. However, you can add this recipe as evening snacks.
Along with bread pizza to beat the summer heat nothing can be better than the masala chaas or masala lassi. The oldest known beverage in India and definitely most refreshing also. Beat the curd and add the herbs, which will enhance its taste and its medicinal value also. Add ice cubes to it to help your dad refresh and cool this summers.
Apart from the above if you could include a raw mango salad in the menu it will be a special add on for the day. Be it street food stalls of Bangkok or the five stars, this salad has managed to leave its mark everywhere. The salad is tangy and crunchy in the best possible manner to awaken your senses. Thinly sliced raw mango with thinly sliced bell peppers along with the crunchiness of peanuts and refreshing taste of mint leaves and coriander will take your dad to a small tour of his childhood. A healthy, simple, awesome recipe to celebrate the special day with your.
No celebration is complete without sweets, thus as an answer to your sweet cravings this dessert is just perfect. Adding to the beauty of the dessert the fresh chopped mangoes are layered with soft cream cheese. The crunchiness of digestive biscuits with raspberry sauce and layer of soft cream cheese topped with mangoes is all that you need to show your love for your father. In fact, if you want you can make it totally as Indian style. This is the Mango season and any recipe with Mango would definitely love by your father. So, Mango Rasgulla would definitely capture the menu and attract your Dad if he loves Rasgulla.
As you spend the special day with your father try to make each day special for your father and enjoy the moments of life.