Bread Pizza
2016-10-03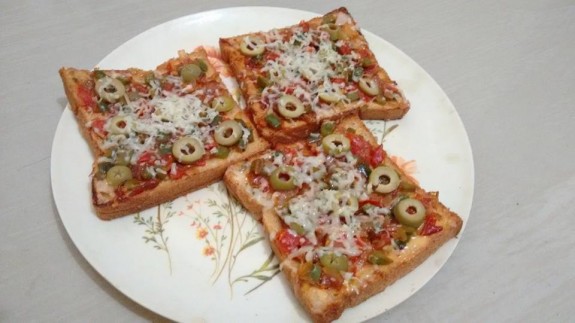 Bread Pizza is a delicious recipe which you can make easily at home. As this recipe needs some normal vegetables which are required for Sandwich, so you can prepare this recipe anytime either for breakfast or for snacks at your home to make your nearest one feel happy. Serve this excellent, tasty Home made bread Pizza with Mojito or some juice.
Ingredients
3-4 bread slices
2 Tbsp butter
grated cheese
2 big onion chopped
2 big tomato chopped
1 tsp chopped garlic
½ big capsicum chopped
2 Tbsp olive oil
10-12 olive sliced
2 Tbsp tomato puree or tomato ketchup
1 tsp sugar
salt as per taste
4 black peppercorns
½ tsp dry chilli flakes
½ tsp dried oregano (optional)
2 tbsp finely chopped basil (optional)
Method
Step 1
1. Heat olive oil in a pan and add peppercorns. Saute for few seconds. 2. Add chopped garlic and after getting a good aroma of garlic, add chopped onion. Saute for few minutes and add chopped capsicum. Saute everything for 102 min on medium flame. 3. Now, add chopped tomatoes and tomato ketchup or tomato puree. Add sugar, salt, chilli flakes and mix all well. Cook for 1-2 mins more while stirring. 4. If you have oregano and basil leaves, then add these now and mix well. Remove peppercorns and discard them. 5. Switch off the gas, divide it into 3-4 portions and keep aside. 6. Now, Toast the bread with light butter in a preheated oven at 200 degree for 5 mins. You can toast this in a simple tawa/pan also. 7. Now spread each portion of above pizza sauce mixture on top of the bread evenly. Add olive slices above that and sprinkle cheese over it. 8. Now, bake it for 5 mins or till cheese melt. You can also keep it in tawa/pan for 2 mins in low flame and cheese will melt. 9. Serve it immediately.
Some More Breakfast Recipes:
Kanda Poha
Vegetable Rava Upma
Bread Rava Toast
Bread Upma
Potato Carom Seeds Grilled Sandwich
Junglee Chicken Sandwich
Eggless Mango Mint PanCake
Bread Toast or Bread Besan Toast
Instant Rava or Sooji Uttapam
Potato Omlette
Matar Kachuri or Karaishutir Kochuri
French Crepes
Egg Mayo Sandwich
Paneer Paratha