Tomato & Garlic Penne Pasta
2015-10-04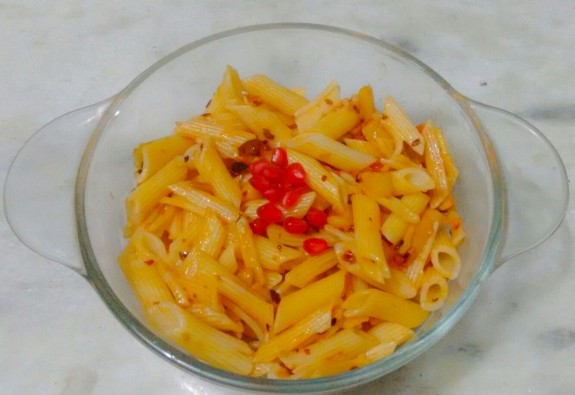 Prep Time : 10m
Cook Time : 20m
Making Penne Pasta with Tomato and roasted garlic is the easiest way to make everyone happy. Find the delicious Penne Pasta recipe accompanied with Tomato and Garlic to make it more colourful.
Ingredients
2-3 Tomatoes
olive oil
sea salt /normal salt
freshly ground black pepper
red chilly flakes
finely chopped garlic
500 gm penne pasta
pomegranate
basil leaves optional
Method
Step 1
1. Mix little olive oil, salt and pepper powder on 2-3 tomatoes and roast the tomatoes. 2. Once they roasted, squash the tomatoes to get the juices. 3. In a large pan, boil and cook the penne pasta as instructed on the packet. While boiling doesn't forget to mix 3-4 drops oil into the water. Once cooked drain the pasta and spread it in the big dish. 4. Heat 1tsp oil in a pan and roast the chopped garlic. Add roasted tomato juice and the cooked Pasta and toss everything. If you want, you can also add some fresh basil leaves into this. Add chili flakes and pomegranate. 5. Your Tomato & Garlic Penne Pasta is ready to eat.