Lemony Chicken Pasta
2015-12-30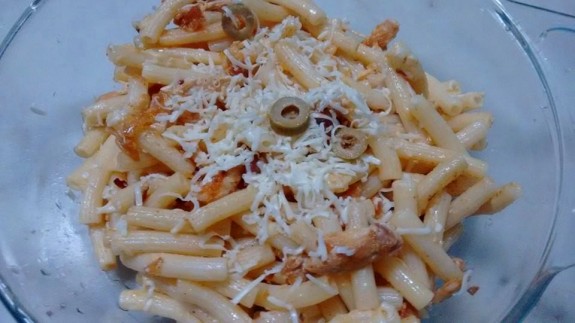 Chicken and lemon together have a great taste together and when it is adding in Pasta it will give a delicious taste with the touch of cream and cheese.
Ingredients
2 Cups cooked pasta
1 Cup boneless boiled chicken
2 tsp olive oil
2 tsp lemon juice
1 tsp crushed red chillies
5-8 garlic cloves chopped
Salt as per taste
Parmesan cheese powder
2 Tbsp fresh cream
8-10 green olives – cut into slices
For Garnishing:
1 Tbsp grated cheese
Ssome olive slices
Method
Step 1
1. Heat olive oil in a pan. 2. Add chopped garlic and sauté it. Now, add crushed red chillies and chicken and sauté it for 1-2 minutes in high heat. 3. Now, add salt and pasta and toss everything well. 4. Now reduce the lame and add olives and fresh cream and mix it well. Cook for 1-2 minutes. 5. Add lemon juice and Parmesan cheese and mix everything well. Turn of the heat. 6. Serve it in a bowl and garnish it with grated cheese and olives on top.