Namak Paare or Nimki Recipe
2016-10-06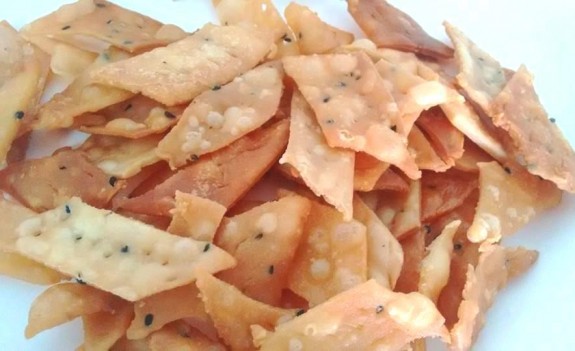 How to make Namak Paare Recipe
The crispy and flaky texture of Namak Paare made this dish so crunchy and yummy. You can make Nimki or namak pare in a big batch and store it in a dabba to enjoy your everyday evening snack time. Not only for simple evening snack but many people used to make this recipe during festivals like Diwali, Holi etc. also.You need to follow the exact amount of oil and flour measurement to get the crunchy and flaky texture.
Ingredients
½ cup whole wheat flour
½ cup all purpose flour
¾ tsp salt
2 Tbsp semolina (Sooji)
¼ tsp carom seeds (Ajwain) or ½ tsp black cumin (Kalonji)
1/3 Cup water or as required
2 Tbsp oil
oil to fry
Method
Step 1
1. Take a big bowl and add all purpose flour, whole wheat flour, sooji, kalonji or ajwain, salt and oil and mix everything well to get the consistency like breadcrumbs. 2. Add water to make smooth dough. Cover with wet cloth and keep it aside for atleast 10 mins. 3. After 10 minutes, knead the dough again and divide it into 2 equal parts. 4. Take each part and make a flat ball shape. Roll them into circle with 9 inches thickness. 5. Take fork and prick them all over the rolled dough so that it would not puff while frying. 6. Now, cut the dough into small pieces like pare. 7. Heat enough oil in a frying pan and when it heated properly, pour the namak paare cut pieces one by one. Make sure, you should place such amount of namak paare so that you can turn them easily to fry other sides. Fry them until both sides are light brown in colour. Keep in mind that does not cook it in high heat otherwise they will become soft. 8. Keep the fried paare in a plate to come it to the room temperature. The crispy namak paare are now ready to serve. 9. Keep this is an air tight containers for further use.
Find some more Diwali Special Faral:
Moong Dal or Besan Laddu
Chakli or Murukku
Corn Poha Namkeen
Poha Namkeen Chivda
Coconut Laddoo(White)
Besan ki Papdi
Find some more Holi Special Recipes:
Moong Dal Mongode
Gujiya Recipes
Malpua Recipes