Moong Dal Laddu
2015-11-08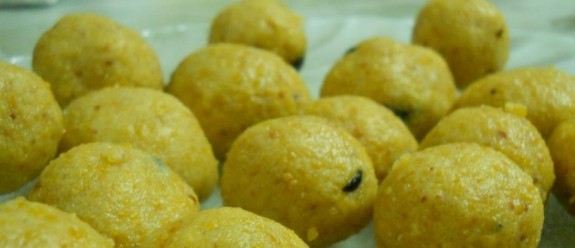 Diwali is the festival of lights by celebrating and preparing festive sweet treats to other. Moong Dal Laddu recipe is one of the classic India sweet recipe which can be prepare in very less time.
Ingredients
1 cup Yellow Moong Dal or yellow lentils
¾ cup powder sugar
2 tbsp crushed nuts as per your choice (optional)
¼ tsp cardamom powder
¼ cup melted ghee and lightly warm
Method
Step 1
1. Dry roast the yellow moong dal/yellow lentils in a heavy bottom vessel in low flame. Keep stirring the dal till it emits a nice aroma and turns into light golden colour. This may take 10-15 mins. 2. Remove from heat and cool the roasted dal. 3. Once it comes to room temperature, grind it finely to make powder. Place the grounded powder in a large plate. 4. Add powder sugar, milk powder (optional), crushed nuts (optional) and cardamom powder. Mix it well. 5. Now melt ¼ cup ghee in a small pan and pour this warm ghee over the mix powder dal. Mix it well and make small size balls with the mixture. If the laddu is not holding the shape properly, then you can add some more melted ghee and mix well. 6. Store it in a tight container.
Explore some more Diwali special recipe 2016
Find some more Diwali Special Faral:

Chakli or Murukku
Corn Poha Namkeen
Poha Namkeen Chivda
Coconut Laddoo(White)
Namak Pare or Nimki
Besan ki Papdi
Find some more Holi Special Recipes: