Salad Recipes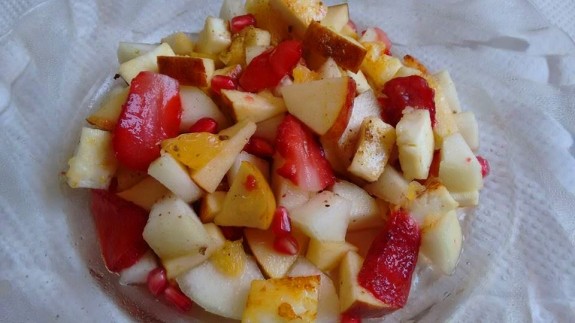 Salad is always healthy, tasty and satisfying on its own way. Find our delicious yet simple salad recipes conjured by using various ingredients and seasonings to make it more joyous. Add more vegetable and fruits to your meal and check our vegetable and fruits salad recipes to make your day healthy.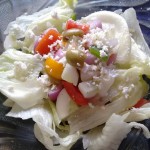 Greek Salad is a plate full of goodness and healthy items. It is one of the most delicious salad yet healthy and fresh with wonderful tasting.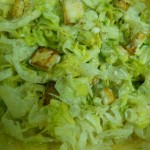 Lettuce Paneer Salad is one o my favourite veg salad. It tastes so good and healthy too. Fresh lettuce mix with mayonnaise makes the dish so yummy that you want to keep eating and eating. Serve the dish fresh and don't refrigerate it.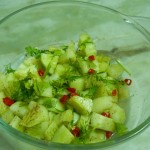 This is one type of sweet, sour and little spicy Salad which is termed as Salsa (not Sauce). This Salsa is perfect with any burritos or grilled fish or barbecued chicken or prawn.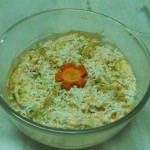 Mayonnaise Cheese Vegetable Salad or Carrot Cabbage Coleslaw in a twist:
Mayonnaise Cheese Vegetable salad is a little twisted form of Carrot Cabbage Coleslaw with thinly sliced carrots and cabbages seasoned with mayonnaise, lemon juice and cheese dressing.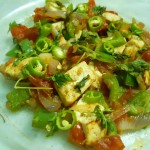 Paneer Salad (lightly tossed):
Paneer salad is all time refreshing and healthy salad to eat. This easy and appealing paneer salad can be added anytime during the meal.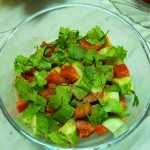 If you are looking for any quick yet healthy salad recipe, then this salad will be the right choice for you. Tossing all the vegetables in lemon juice and chaat masala will give you the perfect nutrition and diet plan.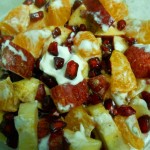 Cool down with this colourful and refreshing fruits salad recipes in any season either summer or winter. This is really a delicious salad or as well as you can say dessert to change the taste of your tongue.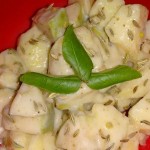 Lemon Leaf Fruits Salad is unique recipe with fruits and honey-lime dressing. This innovative salad gives a great aroma and taste of lemon leaves and fennel seeds. I would definitely love to have this gain and again.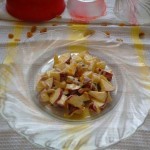 This is one of the sensational apple salads with lots of flavours, texture and taste into it. Treat yourself and your family anytime or in any weekend with this refreshing and delightful apple nut cinnamon salad and make your day enjoyable.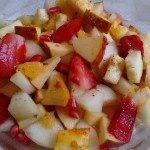 Paneer Fruits Salad or Cottage Cheese Fruits Salad:
Refresh your morning with the rainbow colour mix ideas of salad with fresh fruits and make your full day energetic and healthy.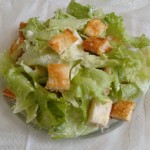 Caesar Salad fans will definitely find this dressing style tastier and absolutely delicious to have. Find the recipe here.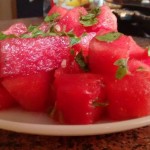 Watermelon Basil Leaves Salad:
Highlighted with 5 to 6 ingredients, the watermelon basil salad is the right choice as an appetizer or side dish during the summer days.
Mango Salsa proves that how a fruity, juicy Mango can also turn into spicy, sweet and absolutely delicious recipe. This is very easy to make recipe and great side dish with tacos, chips, grilled fish or grilled meat too.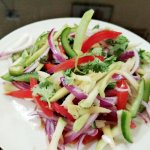 Raw Mango Salad is one such refreshing salad for summer which would definitely awaken your taste buds. It is a simple salad with full of wonderful flavours.